Makomar CNC Verspaning's core business is in the market of prototypes and single units. And yet Wim Martens, manager and owner of the Brabant-based bespoke machining company, has chosen to invest in a BMO Automation robot cell. Makomar is now able to offer clients small product series, manufactured quickly and efficiently. Makomar's robot cell is a second crew in itself.
Wim Martens: "Automation has allowed us to compete in small series manufacturing with regard to price."
Makomar's core business is in the field of precision components: bespoke single units and prototypes. Complex products are manufactured through highly precise milling and turning. The company has an in-house suite of technological solutions to keep changeover times short. Solutions ranging from 3- to 5-axis milling machines, a Y-axis turning centre, power tools to wire sparking machines. Makomar works with one team. "We're too small of an operation to work with two shifts", says Martens, who founded the company with his wife in 1993. Yet Martens has found that it has become increasingly difficult to attract competent skilled workers in Brabant. Over the last few years he has also frequently lost attractive orders. "Small series productions. 10 units, 20 units, and sometimes 40 or 50 for existing clients. We lose the orders because we can't offer them a good price." Martens' investment in a BMO Automation robot cell serves precisely to snatch up those extra orders. The Pt20F robot cell is set up near a Hurco VMX30t 3-axis milling machine, to which a 4th and 5th axis were added previously.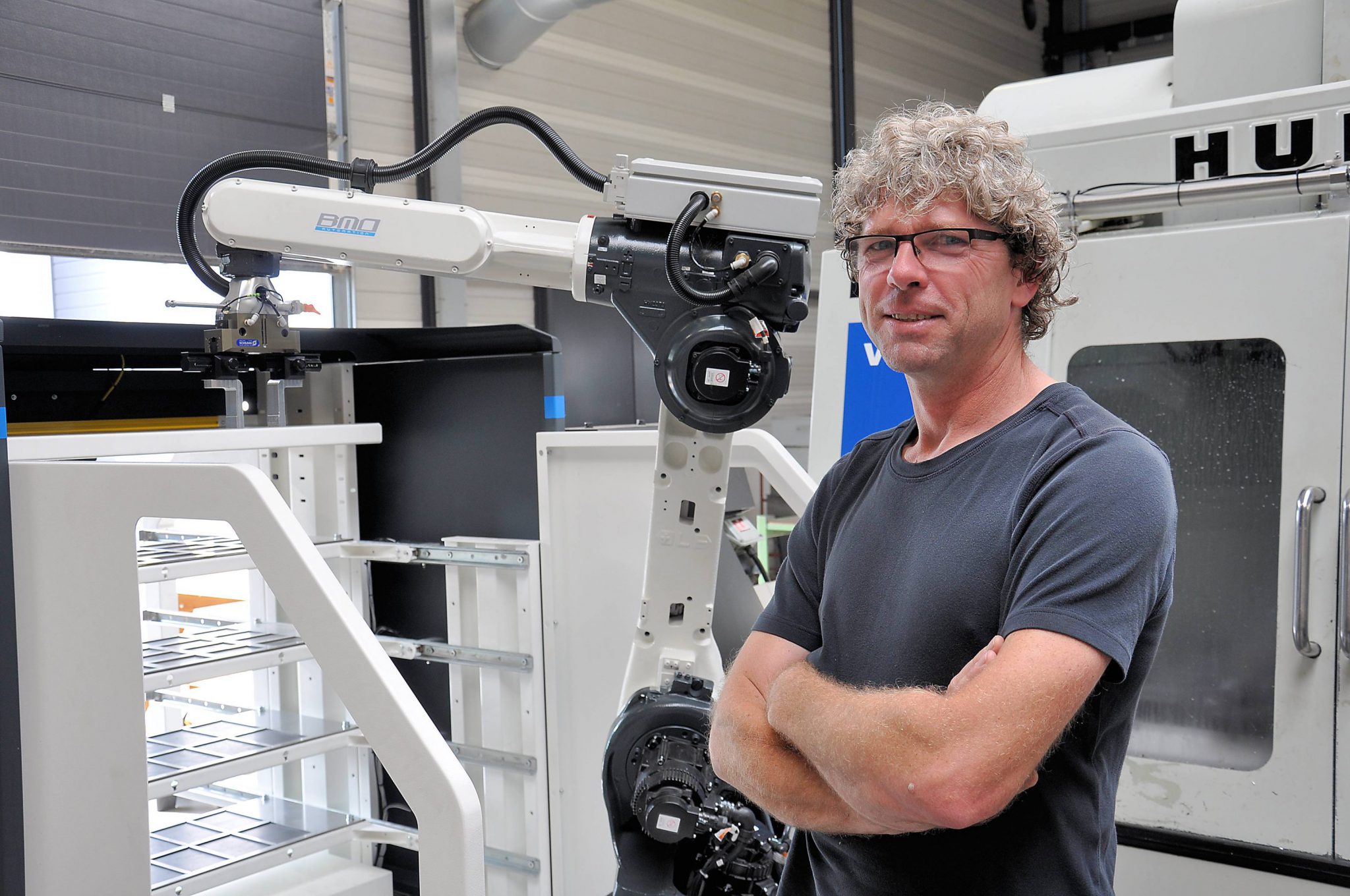 Quick adjustment
Two criteria were key in the selection process: flexibility and quick adjustment time, without impaired machine access. The robot cell's design at an angle allows the entire Pt20F cell to be placed adjacent to the machine, without impeding access to the milling machine itself. This particular robot cell is fitted with a laser detection system, removing the need for a protective guard. Entering the safety zone will immediately cause the robot to power down to a slower pace and even closer proximity shuts it down. One push of a button, however, and the robot picks up exactly where it left off. The flexibility criterion is reflected in the cell's 4 grid plates, suitable for various product dimensions. Even products higher than standard dimensions are no problem as trays can be removed and replaced. Programming a new product takes no time at all. No more than 10 to 15 minutes per product, including programming the grip unit. Wim Martens: "Depending on the cycle time, you can let the robot load very small series." The 5-minute processing time means it makes financial sense even to process as little as 10 units unmanned.
The BMO Automation robot cell features a laser detection system, removing the need for a screen guard
Simple programming
Another key reason the BMO Automation cell was selected was its simple programming feature. "Everything is pre-programmed," says Martens, "the position of the clamps is set. In fact, one can't really call it programming, but rather it's just entering the number of variables, such as the height of the exiting material and product, the height of the jaws in the clamp and the amounts. The software does the rest." The 20 kilogram bearing capacity of the robot grip is more than sufficient for the products manufactured by Makomar.
Nightshift
Within weeks after BMO Automation fitted the robot cell at Makomar, the company moved on to carrying out unmanned milling works for products several nights a week. Although the cell is also in use during the daytime, with milling taking place on another machine and the cell conducting other tasks. Even at two extra machine hours a day, the investment makes good returns. After all, that means an extra 10 hours or more than one whole day of production capacity, but without additional investments in machinery and manpower. This means Makomar is now able to take on the additional orders from existing clients that previously had to be turned down. Wim Martens: "The robot cell allows us to increase our output every week. It's basically our second crew."
The design of the Pt20F robot cell ensures good accessibility.
BMO customer service
Although Wim Martens considered flexibility and accessibility to be key deciders in the selection process of the BMO Automation robot cell, a third factor played a part in the process. "The supplier is also a key factor", he says, "And customer service is very important to us. For instance, we need them to be on site as soon as possible if need be." BMO Automation is located in Nederweert, a relatively short distance from Boxmeer. Martens feels that robot cells have become crucial components to 21st century machining companies. "Automation is the way to go. It's a trend similar to that of thirty years ago, when we switched to CNC machines from conventional machines. It's the same with robot loaders." These investments do require a different approach than that for CNC machines. The Hurco milling machine has a chain of 30 tool position. Not very much for unmanned work. "It'll do for the time being", says Martens, "we have to be efficient in our planning. The next machine that we buy will most definitely be one with a more extensive tool magazine."