Our Service, your Performance
Is your production at a standstill, or is your request urgent for some other reason? In that case, direct telephone contact with one of our technicians is the best option.
Want to contact us about a non-urgent matter? Then you may also email us .
Suppose your production process comes to a halt. What then?
On weekdays between 8:00 a.m. and 5:00 p.m. your CNC operator can call +31 (0)495 721 007 and will be in direct contact with a technician from the Service Team. The technician and your operator will then work together to find the cause. The BMO Service Team is also available for questions on the creation of robotic tasks or making product-specific adjustments. In most cases that is all it takes to get an answer to your question or solution to your problem. Otherwise, the next step is remote support.
The problem can't be solved via telephone support? Too bad… Fortunately, our technician can log into your robot cell via remote support. This means we can solve the problem or change settings from our office. With remote support, most malfunctions can be solved straight away. This eliminates unnecessary waiting time for the user and travel time for BMO.
Carefree production with a BMO Service Contract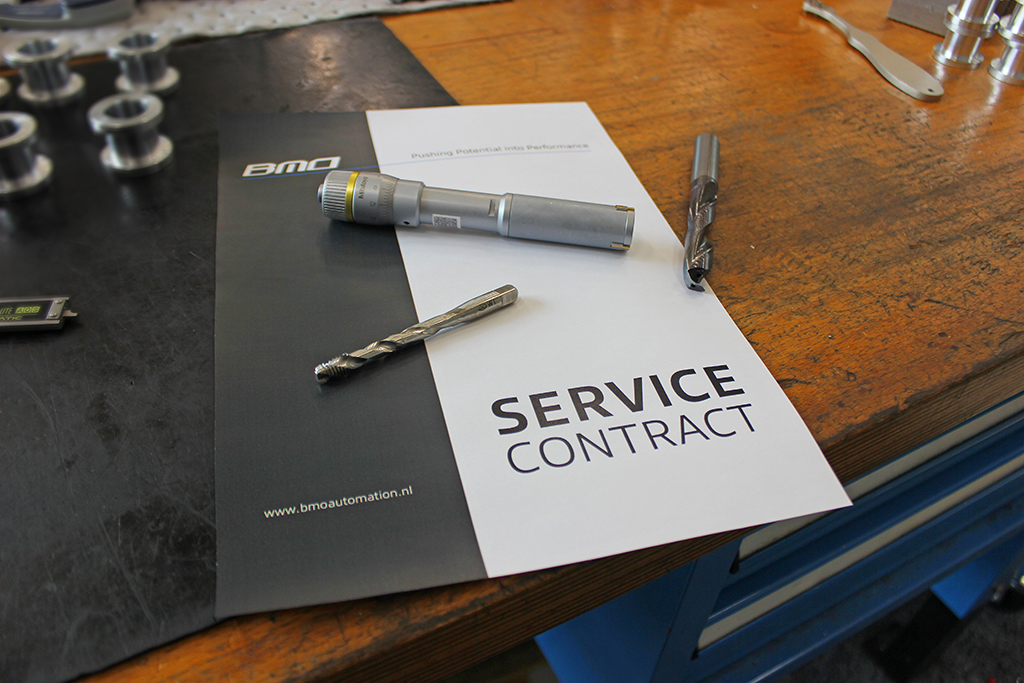 Availability and reliability are essential requirements when modern production machinery is used. As machining processes become more sophisticated, transparency in costs and response times is an increasingly important factor for many BMO users. After all, unforeseen breakdowns cost a lot of money, and solving these problems often causes a lot of stress and extra work for the user.
This is where the various BMO Service Contracts come into play. With a silver or gold service contract you get transparent insight into service costs and response times.
Clarity in advance about BMO's approach to resolving breakdowns gives many customers peace of mind. Do you also opt for a service contract?
The BMO Service Team does much more.
Have you decided you would rather have your BMO automation system on another CNC machine? Or are you going to relocate your entire combination? Then leave the calibration to the BMO Service Team. That way you can rest assured you will continue to have working, reliable, CE-certified automation after the move. You can schedule calibration after a move directly with the Service Team .
There are no foolish questions, and time is money. That's why we make easy-to-use software that functions very intuitively. Do you nevertheless have a question? Then don't waste time experimenting. Call the Service Team and get immediate assistance.
A training course is included with new BMO automation systems. That's a good start, of course, but your workforce may change. Therefore, you can always ask the Service Team to provide additional individual or group training sessions at your location. For example, specifically about software or security. For a tailor-made training course that fits your team's needs, call the BMO Service Team .
Want to connect a second CNC milling machine to your sideloader? That's a common request for the Service Team. With a second CNC machine you double the efficiency of your automation system. You can request a quote for the connection of a second CNC machine from the Sales Team . The Service Team will then contact you for the installation.
Introducing and connecting new collets, pallets, grippers or other tools? In most cases, you will be assisted via remote support. In some cases, a Service Engineer will visit you for this. You can easily order additional collets, pallets, grippers and tools from the Sales Team .
A BMO automation system is modular. This means you can easily add new functionalities. How about a turning station for autonomous 6-axis machining? Or a cleaning station so that coolant doesn't dry up on the workpiece? For additional functionalities, contact the Sales Team to request a quote. The Service Team will then contact you for installation.
Have you been helped yet?